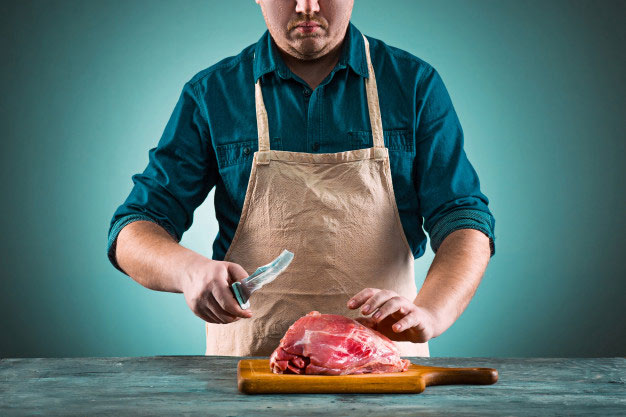 Butcher Job Description
Job Summary
Do you have a vast knowledge of meat cuts and love to help people prepare their tasty dinners? We would love to have you join our team as a butcher to assist our customers with choosing the right meat for various meals. You will have the chance to use your profound knowledge of preparing meats for cooking to reduce the workload of our clients once they have purchased their high-quality selections. You will also have the opportunity to educate others on the best way to prepare and cook the prime cuts. You will coordinate deliveries and ensure that all of our selections remain unspoiled and of the best quality.
Job Responsibilities
Arrange cuts of meat and place them in an attractive manner in the display case so that customers will wish to purchase them.
Weigh, label and price a variety of cuts of meat for on-demand selections by customers in an efficient manner that keeps customers satisfied.
Receive deliveries of meat and inspect them to ensure that they adhere to the highest quality standards and are not expired.
Use skewers, bone knives, twine and other tools to lace, tie and shape roasts so that they are ready for customers to buy and cook.
Prepare meat into forms ready for cooking using a variety of actions, including boning, tying, grinding, cutting and trimming to make it easier for customers.
Educate customers on different selections and types of poultry, pork, beef and fish to help them decide what to purchase.
Rotate products to reduce the chance of any meat spoiling to reduce waste and loss of profits.
Maintain and clean the meat preparation counter to reduce the risk of food contamination and adhere to food safety guidelines.
Job Skills & Qualifications
Required:
1-2 years' experience as a butcher
High school diploma or equivalent
Excellent oral and verbal communication skills
Knowledge of food safety
Preferred:
Associate degree in food services or coursework in a culinary institute
Experience in whole animal butchery